Attending one of our Job Clubs is one of the best ways you can improve your job search success.  Our staff are on hand every day to help you update your CV, complete job applications and practise your interview skills, as well as give guidance on training and development opportunities you can explore.  
Kensington Job Club
We run several job club sessions each week from our Kensington Chambers office.  As well as 12 computers that you can use to search and apply for jobs or to do online training, we also have private meeting rooms and a break area with tea and coffee facilities for clients.  Job clubs can be a good place to meet up with other clients and share your job-seeking success stories, or knowledge of job vacancies. 
Job Club Opening Times
We run at least one job club per day, at the times shown below.  You are welcome to attend any job club that suits your schedule, but if you wish to meet with an Employment Coordinator from your team you will need to attend the designated session.  If you are unsure which team you are with, please check with your Employment Coordinator.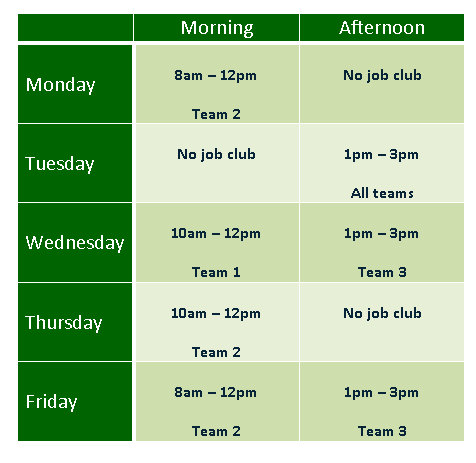 What can I do at Job Club?
Job seeking
Our Employment Coordinators are on hand to assist you with all aspects of your job search and can help with the following:
Identifying suitable jobs to apply for
Updating and tailoring your CV
Writing a cover letter
Completing job application forms
Sending speculative emails
Reviewing your job seeking goals and actions
Check your emails for job responses
Make work-related calls and send emails
Training and Development
As well as job seeking, clients can use our job club facilities for training and development; you can: 
Improve your computer and IT skills
Complete online workplace training
Learn Driver Theory information 
Take online Driver Theory Practice tests
If you are unwell and not able to attend job club, please contact your Employment Coordinator to advise them of this.