Barclays have worked with LifeSkills to produce an online resource aimed at helping people develop their employability skills for the future.  As well as providing useful career advice and guidance, Barclays also have a Digital Eagles website which focuses on IT skills development.
For more information, click on the logos below;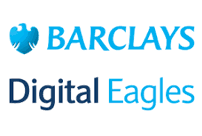 Both are free to sign up to and once online you will find resources to help you build your CV, investigate the right career opportunities to suit you and gain points towards rewards and certificates. It is a good way for you to work on your skills development in your own time. 
If you would like some support with navigating the website or accessing the material, please speak with your Employment Coordinator.