Email is the short name for 'Electronic Mail'. Emails are messages sent via a computer from one person to another that can contain text, files, images, or other attachments, such as a CV and cover letter.  
Email addresses
An email address is a unique identifier for an email account.  It is used to both send and receive email messages over the Internet.  Similar to physical mail, an email message requires an address for both the sender and recipient in order to be sent successfully.  You can set up an email address through an email host, such as Google, Yahoo, Hotmail, Outlook or iCloud, as well as others. 
An example of an email address is fred.bloggs@gmail.com  
Choosing your email address
When you create an email address, it is important that you consider who might need to use it and whether it is an appropriate address to share with an employer. 
Do's
We recommend using your name, including your middle name if needed, so an employer can easily identify who sent the message and they won't be able to make any assumptions about your character.
Don'ts
Have a look at the email addresses below and think about the image of the person you get from this.  Is it a good or bad image for an employer?
beer.monster@gmail.com 
dirtygrungechick@yahoo.com
tiredmummyofthreekids@outlook.com
Using an email address such as beer.monster@gmail.com is less likely to get you an interview as an employer may assume that you spend a lot of time drinking alcohol and think you are likely to call in sick a lot. 
An address such as dirtygrungechick@yahoo.com may give an employer a false impression of your character, personality and professionalism and you may not be offered an interview because of this. 
tiredmummyofthreekids@outlook.com can make an employer aware that you have children and may lead to inappropriate questions about how you would manage childcare and work, and also about how you would manage work if you are already tired!  
Personal email addresses
It is fine for you to use the above examples for personal email addresses, but we recommend creating a professional email address specifically for your job seeking activities.  If you need any help with this, please speak to your Employment Coordinator or a member of job club staff.
Sending an email 
We encourage all clients to attend job club on a regular basis and to use the computers there to send emails related to job seeking.  This could be sending speculative letters, job applications or emailing a company to ask additional questions about a role you have seen advertised.  
What to include in your email
When you send an email for job seeking purposes, you need to consider the following:
Include the job reference number or title in your email subject line
Don't duplicate the contents of your CV and cover letter in the body of your email
Write a new email for each application - do not copy and paste previous emails
Make sure you include all the information the company ask for
Check your email for spelling and grammar mistakes and correct them
Check the email address for the receiver is correct before you send it
Here is our example of a good email: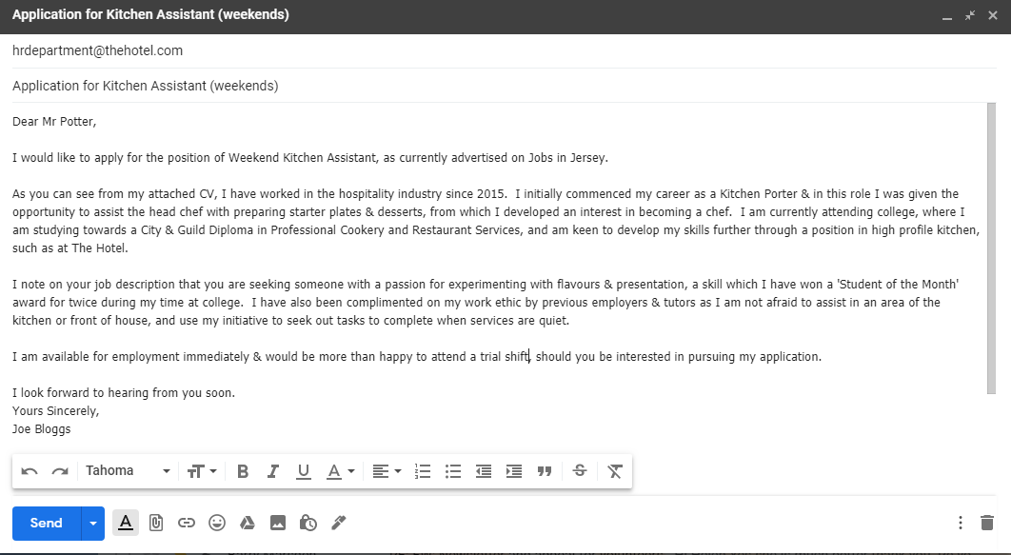 Receiving an email
When another person sends you an email, this will generally go into your 'inbox', the main folder that mail goes to.  We recommend you also check other folders, including your 'junk' or 'spam' folders as sometimes emails get directed there instead and you may miss an important email if you haven't checked these folders.
When job seeking, you should check your emails regularly in case an employer wants to confirm any information with you, or invite you to an interview.  It is best practice to respond to the person as soon as possible to provide the information they have asked for, or to confirm you can attend an interview.  
If you need any help sending or checking your emails, please speak to your Employment Coordinator or a member of job club staff.