Welcome to Jersey Employment Trust.  We are a supported employment service whose aim is to help people with a disability or long-term health condition to find and maintain open employment. 
Jersey Employment Trust is made up of 3 different services, as the diagram shows: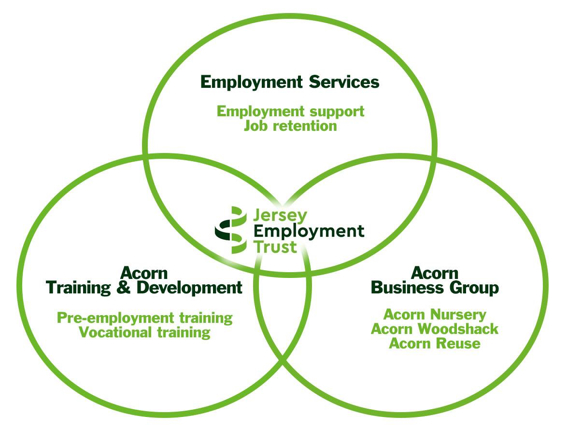 Our service is bespoke; we work with clients on a 1:1 basis to identify relevant training opportunities, access appropriate work experiences, placements and paid employment and provide in-work support for as long as needed throughout your career.
We can provide you with a number of options to fit with your current status and employment goals.
Employment Service 
Our Employment Service team is based at Oakfield and their role is to:
Help identify and research appropriate career paths
Help you prepare and update your CV
Identify relevant training
Source work experience and placement opportunities
Assist with job searching and applications
Assist with interview preparation and practice
Provide in-work support and job retention
Training & Development Service
Based at our Acorn site in Trinity, the Training and Development team work with clients to develop employment skills and build self-confidence.  They can support you to identify realistic and relevant vocational goals and work with you to identify appropriate training/ volunteering opportunities to progress towards these goals.  They will hold regular reviews in order to evaluate your progress and plan the next steps on your vocational journey.
Some of the opportunities on offer through our Training and Development Service include:
Acorn Group Training Projects  
Reuse - Help to sort, quality-check, clean and safety-test donated items or assist in our Reuse shop.
Greenhouse - Assist with planting, growing and caring for bedding plants.
Allotment - Assist with sowing, growing and harvesting a variety of seasonal fruit and vegetables.
Furniture Upcycling - Transform donated furniture into bespoke, one-off pieces.
Wooden Gifts - Create unique gifts from donated timber.
Textiles - Use donated fabrics to create quality textile products.
Woodshack - Sort, de-nail and prepare donated timber ready to be re-sold or made into bespoke furniture or kindling.
Kindling - Help produce kindling from recycled wood.
Tool course - Train in the safe use of hand tools and power tools, to make bespoke garden products.
Volunteering Scheme
Volunteering plays a very important role in the community and can give clients an opportunity to try new experiences, increase confidence and develop employment skills.  Volunteering can be used as a stepping stone into employment or can be a valued long-term vocational activity.
We offer a variety of supported volunteering opportunities with local charities and non-profit making organisations, to help develop and improve core work skills and as an assessment of your employability and work readiness.
Our volunteers might work in charity shops, with Jersey Heritage, tending farms and gardens or helping out with local community social groups.