Registration Cards show your entitlement to rights such as access to work and housing in Jersey. 
Why do I need a Registration Card?
You'll need a Registration Card if you:
move to Jersey
move house
start a new job
You will need to give your new employer your Registration Card details before you are able to start work, this is to prove you are eligible for employment with them.
The Registration Card looks like this: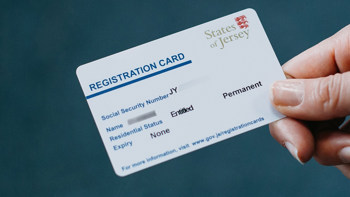 How do I get a Registration Card?
You can apply for a Registration Card by completing an online form, which is on the Government of Jersey website via the link below, or you can visit the Customer and Local Services department in person and request one.  
Registration Card Application
Do I have to pay for a Registration Card?
A Registration Card is free if you are 'entitled' or 'entitled for work', otherwise it will cost you £80, which can be paid in cash or by card.  You can find more information on the different entitlement categories on the Government of Jersey website below: 
Residential and Employment Statuses
If you have any questions or need help understanding your entitlement to work in Jersey, please speak to your Employment Coordinator.